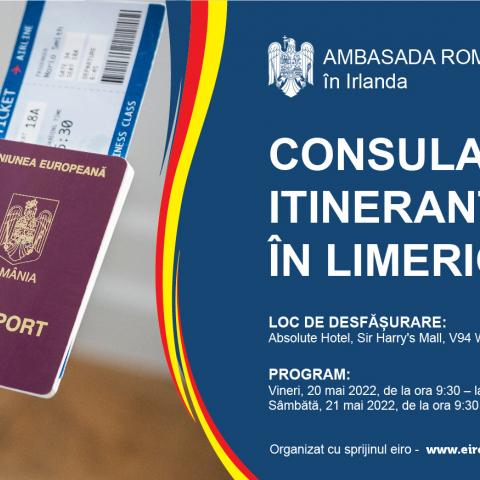 Between May 20-21, 2022, the Consular Section team will travel to Limerick City to provide consular services and assistance to Romanian citizens in the area.
Through this initiative, the Romanian Embassy wishes to meet the needs of Romanian citizens in the South, West and Center of Ireland, as close as possible to them.
Although there are no restrictions, it is estimated that the reference area includes Romanian citizens in the counties and cities of Cork, Carlow, Clare, Galway, Kerry, Laois, Offaly, Tipperary or any area with easier access to Limerick than to Dublin.
TIME SCHEDULE:
• Friday, May 20, 2022, from 9:30 a.m. to 5:00 p.m;
• Saturday, May 21, 2022, from 9:30 a.m. to 5:00 p.m.
Location: Absolute Hotel, Sir Harry's Mall, V94 WP52
You can request an appointment EXCLUSIVELY online at the e-mail address limerick.consulat@gmail.com, no later than May 1, 2022, at 17:00.
The message you are requesting to schedule must contain the following:
• Name and Surname;
• Consular service requested;
• Phone number where you can be contacted;
Each applicant will receive back by email information on the date and time of the appointment.
With the support of Eiro.
For further information please visit https://dublin.mae.ro/local-news/2042